As an X Games Freestyle Motocross rider, tattoo artist and lead bassist for rock band Piranha Fever, Kyle Loza truly knows the importance of a functioning and pain-free wrist. Since 2009, however, Loza has suffered from chronic wrist pain stemming from numerous vocational injuries. Undergoing 5 surgeries between 2009 and 2011, Kyle Loza could not find relief with the injury creating a constant hindrance to his professional ambitions. With the same strength and perseverance he brings to his motocross riding, Loza continued to perform despite his condition until a devastating crash occurred just days before the X Games in 2011.

Who is Kyle Loza? Xtreme Athlete, Musician, Tattoo Artist

Kyle Loza is a new kind of triple threat, talented in activities across the spectrum. The first rider to ever win three X Games Moto X Best Trick gold medals in a row, Loza began his champion motocross career in 2007. Inventing such tricks as "The Volt" and "Electric Doom", Loza is known for his ability to create innovative and complex freestyle tricks, earning him not only X Games gold medals but also a reputation for excellence and creativity.
He maintains this creativity even outside his athletic life, channeling it in his artistic endeavors as well. As a tattoo artist and musician, Kyle Loza relied heavily not only on his creative mentality and wow-factor, but also his physical capabilities, especially those of his hand and wrist. It was both his professional and personal ambitions, however, that made a wrist injury that much more devastating, an injury that would not only hamper his present endeavors but also threaten his future.
The Crash
Culminating in serious injuries to his thumb and wrist, the 2011 crash provided a climatic event that pushed Kyle Loza to try pain treatment with someone new and innovative, and he chose Dr. Ty, head neurosurgeon and stem cell specialist at the Brain and Spine Institute of California. With the X Games 2012 only a month away, Loza came to BASIC Spine in May 2012 in hopes of undergoing the stem cell injection procedure to reduce his chronic wrist pain.
The Procedure
The procedure, called inSRT, is an advanced stem cell treatment that makes use of a combination of embryonic and mesenchymal stem cells as well as cytokines taken from amniotic fluid, the placenta and umbilical cord. Through the inSRT procedure, an extracellular tissue is created around the wound, helping to not only alleviate pain but also create a protective barrier, allowing the injury site to regenerate cells and eventually heal.
Beyond its alleviating and healing potential, inSRT is unique in that it uses stem cells that are manufactured in a non-controversial way, taken from organic products without harming the fetus. After birth, the amniotic fluid, umbilical cord and placenta are used to manufacture the stem cells, a process that is completed within the United States. This minimally invasive outpatient procedure is quick and virtually painless, requiring little to no anesthesia or medication, allowing Kyle to walk out of the clinic with a new lease on the life of his wrist.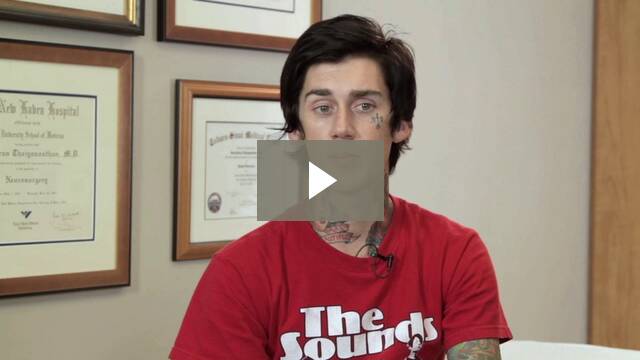 The Future

As a consequence of the combination of the advanced inSRT procedure as well as the care and technique of BASIC Spine's Dr. Ty, Kyle Loza is no longer obstructed by his wrist injury. As a man who understands the vital importance of innovation and expertise, Loza easily recognized those characteristics in BASIC Spine and their inSRT procedure, taking a crucial step in securing the vitality of both his personal and professional future. Looking toward his fourth X Games gold medal and growing success in both the tattoo and music industry, Kyle Loza took immediate action to fix his chronic wrist pain, and with BASIC Spine's cutting edge treatment, Loza didn't have to miss a beat.
Watch a video of Kyle Loza practicing his bike tricks for X Games Los Angeles
Kyle Loza X Games motocross competition Photo credit from ESPN.